Sarawak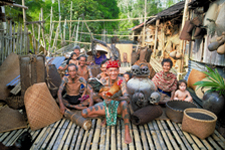 The natives of Sarawak – Iban and Dayak with their different lifestyle, culture and longhouses and the former rule of the White Rajah`s form the major attractions of Kuching.
The Sarawak Museum in Kuching is one of the most popular museums in Malaysia
. It houses a variety of prehistoric artifacts and it
provides one an interesting knowledge of the past and present of the natives living in Sarawak
. The Astana and Fort Margherita built during the colonial period still stand majestically by the banks of the Sarawak River. Rainforest park resorts are taking off in Sarawak. The long-house-style lodge resort with modern and comfortable facilities in Batang Ai National Park offers activities like longhouse excursions, jungle trekking, fishing and wildlife sightseeing excursions.
See Sarawak Borneo Location Map.
Our comments
The alluring lifestyle of the Sarawak`s native tribe is the biggest attraction. You can join a tour to a longhouse to witness their habitat & traditions. The journey to the longhouse on a longboat is an unforgettable experience. Spend some time of the waterfront in Kuching – it a reminiscent of an ancient waterway in the colonial days. Kuching has it's share of wildlife attraction at Semenggok Wildlife Centre – the main feature is the Orang Utan. For a quick beach break, head to Damai Beach. Nearby is the Sarawak Cultural Centre. Sarawak is mystical. Lets enjoy vacation in sarawak, malaysia. See Borneo Sarawak Tour Packages
Sarawak and Borneo Tour Package