Langkawi
The outstanding landscape of the Langkawi Islands (Malaysia) proclaims a true tropical paradise. White sands, clear tropical waters and lovely island sunsets. Located off the northern most tip of Peninsular Malaysia, Langkawi is a group of 104 islands where only three are inhabited. Besides the Main Island's pristine beaches lined with fishing villages and tropical forest with facilities for jungle trekking, the nearby smaller islands offers a more serene environment Dayang Bunting Island where the enticing Lake of the Pregnant Maiden is located and Singa Besar which is being developed into a wild life sanctuary for monkeys, mousedeers and birds. Payar Island – Marine Park is about 3 hours by boat from Langkawi.
This park offers unhindered views of the beautiful soft coral gardens and abundant of tropical fish. The clear waters around here are ideal for swimming, snorkelling, scuba diving and underwater photography.
Langkawi's main town – Kuah, is the main shopping centre of the island which enjoys duty-free status and point of entry from the mainland & Penang by ferry.
See Langkawi Islands Location Map.
Our comments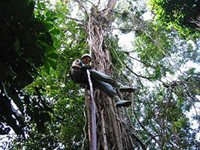 This is where you can stay in the best resorts in Malaysia. All the major hotels are located on the best beaches and some are very remote – so you can expect a quiet place to really put your feet up & unwind. Langkawi has a great range of hotels to cater for honeymooners & family holidays. There are the usual sea activities you get from the hotels but have you tried air trekking? It is an adventure to glide through the rainforest canopy in Langkawi.
Discover the jungle flora & fauna with a naturalist guide & kayak through the mangrove swamps are some of the adventures you can look forward to in Langkawi.Contact our tour operator in Malaysia to search for hotel & tours in Langkawi. See Langkawi Tour Packages
Langkawi Tour Package In Malaysia