Taman Negara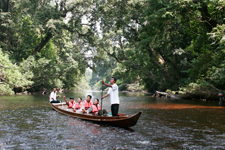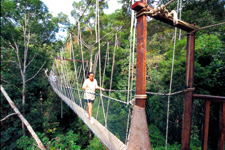 Malaysia's National Park (Taman Negara) covering over 4343 sq. km was established in 1939 by the Sultans of the three states – Kelantan, Terengganu and Pahang. The stated purpose of Taman Negara is ' utilize the land within the park in perpetuity, for the propagation, protection and preservation of the indigenous flora and fauna….'
Taman Negara in Malaysia offers the visitor to enjoy vacation in a tropical haven for all types of varying interests. Most people go to Taman Negara for jungle treks, fishing and boat trips along the virgin jungle rivers where you can picnic and swim in clean water. For the adventurous, one can trek up the Gunung Tahan, the highest mountain in Peninsular Malaysia. See location map.
Car / Coach

Duration
(Approx)

Kuala Lumpur – Kuala Tembeling

2.5 hr

Kuantan – Kuala Tembeling

2.5 hr

Kuala Tembeling – Kuala Tahan

3 hr

Kuala Tahan – Kuala Tembeling

2.5 hr

a) Riverboat departs Kuala Tahan and Kuala Tembeling at 0900 hrs and 1400 hrs (1430 hrs only on Fridays).
Our comments
This is a total jungle experience for everyone to enjoy vacation in malaysia. The boat ride to Taman Negara is an adventure itself, travelling upstream on the muddy river. In a short time, you will begin to appreciate the landscape & feel the excitement of this journey. Explore the great wilderness of the rainforest. You can easily add on a side trip to the Elephant Conservation Centre with Taman Negara.See Taman Negara Tour Packages
Taman Negara Tour Package In Malaysia