Pangkor Island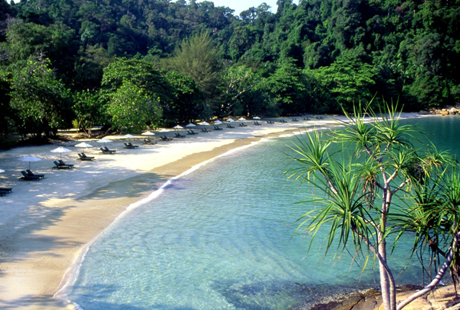 Off the coastal town of Lumut, lies a gem of an island, Pangkor, the main island and the smaller, Pangkor Laut Island. These islands are blessed with lush rainforest interspersed with magnificent sweeping bays with fine sandy beaches. The main island's inhabitants are concentrated on the eastern coastline.
The majority of the locals are fisherfolk. Visitors to the island can watch the daily activities of the fisherfolk from the numerous fishing villages wooden structures built on stilts. Whereas Pangkor Laut Island offers a totally different atmosphere as it is virtually uninhabited except for the presence of a luxurious resort. See location map.
Car / Coach

Duration
(Approx)

Kuala Lumpur – Lumut

3 – 3.5 hr

Penang – Lumut

3.5 hr

KLIA – Lumut

4.5 hr

Cameron Highlands – Lumut

4 hr

Air service from Kuala Lumpur – Pangkor is operated by Berjaya Air (Subang Airport).
Our comments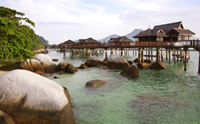 Pangkor`s charm lies on it's natural beauty of unspoilt nature & secluded beaches. It is a favourite destination for holiday makers as it is only 3 hrs drive away from Kuala Lumpur and 40 mins by flight from Subang Airport. This is a carefree & relaxing place to have your own space & time. It is a good idea to combine Pangkor with Cameron Highlands or Penang in your holiday plans.
See Pangkor Island Tours