Cameron Highland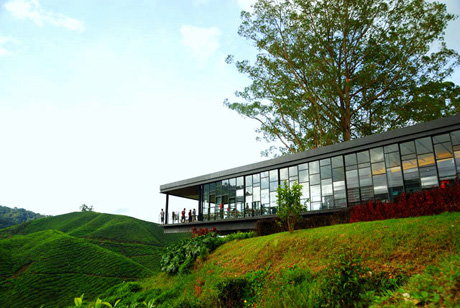 Cameron Highlands at 1,829 metres above sea level is Pahang state's premier hilltop holiday spot. The cool, fresh air on the highlands offers an attractive retreat for city dwellers who want to retreat temporarily from the noise and pollution in the city.
The cool, frost free climate is also an ideal and excellent condition for the cultivation of tea. Tea cultivated on Cameron Highlands is among some of the best tea found in the country. Verdant green hillsides planted with young tea plant greet you as you drive slowly up the meandering road to the three townships of Ringlet, Tanah Rata and Brinchang.
First discovered in 1885 by a British surveyor William Cameron, the fame of Cameron Highlands grew during the colonial era when British Planters realised the potential of its fertile mountain slopes for growing tea, then a prized commodity among the colonies. Families of these British stationed in Malaya at the time also took to hills in a respite from the hot, humid tin mines and rubber plantations. Some of the bungalows left behind are still being preserved for viewing by tourist, with a few facilities added for the conveniences of visitors. See location map.
Car / Coach

Duration
(Approx)

Cameron Highlands –Kuala Lumpur

3.5 hr

Cameron Highlands – KLIA

5 hr

Cameron Highlands – Lumut

3 hr

Cameron Highlands – Penang

3 hr
Our comments
This is a nice change of scenery & pace. As the main activity here is cultivation, tea & flowers to vegetables, one can appreciate the laid back lifestyle and the beautiful landscape of the plateau amidst the lush of green background of the Titiwangsa Range. There are some nature trails here for you to explore including the Mossy Forest, an upper montaine forest, located at the very peak of Cameron Highlands. It is a true spectacle of nature's wonder. Beautiful wild orchids can be spotted along the way. There are a few aborigine villages in Cameron Highlands & it is worth a visit! See Cameron Highlands Tours