Redang Island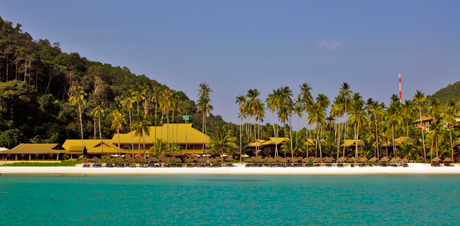 Pulau Redang is one of nine islands, which form a marine park, and which offer snorkeling and diving opportunities in the South China Sea. On the Northern side of Redang Island is the famous diving point, the Turtle Bay. A turtle conservation center is located here for studies purposes. During nesting season, turtles are hatched and released back to the sea.
There are 2 historical shipwrecks in the Redang Waters, The H.M.S. Prince of Wales and H.M.S. Repulse, which were attacked & sunk by the Japanese aircraft & submarine in World War II.
This gem of an Island is perfect for snorkelling, swimming & scuba-diving. However, no fishing is allowed within a 3.2km radius of the island as Pulau Redang is gazetted as a marine park. The collection of corals and other aquatic life is also strictly prohibited.
Berjaya Air flies into Redang from Kuala Lumpur & Singapore whereas Airasia & Malaysia Airlines offer flight service from Kuala Lumpur to Kuala Terengganu. Most resorts can be reached by speedboat from Merang Jetty or Shah Bandar Jetty. See location map.
Transport

Sector

Duration
(Approx)

Car
Kuala Terengganu Airport – Shahbandar Jetty

30 min

Boat
Shahbandar Jetty – Redang Island

2 hr

Car
Kuala Lumpur – Terengganu

8 hr
Our comments
For scuba divers, best time is April to September. Some resorts offer PADI courses. Otherwise, just bring your suntan lotion & swimming gear and enjoy the Redding's beach & waters. The peak season here is July – September and early planning is absolutely necessary. Just like Perhentian Island, you can combine Redang Island with an overland programme along the east coast to make a fantastic holiday to Malaysia.