Kuala Lumpur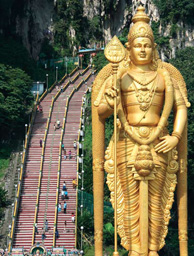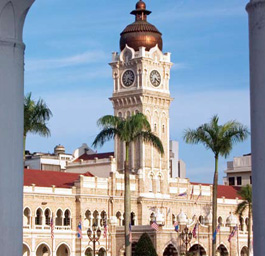 One of the most attractive features about Kuala Lumpur is the many fascinating sights concentrated within the City centre and its immediate vicinity. Among the many attractive sightseeing spots are National Monument & Mosque, Kuala Lumpur Bird Park & Orchid Garden, King`s Palace, Merdeka Square, and Chinatown and there is more yet to be discovered by those who are adventurous enough to explore around this historic and cultivated city.
The 421 m tall Kuala Lumpur Tower is a major landmark. This tower, one of the tallest in the world houses a revolving restaurant giving an awesome view of the whole of the city and beyond.
Another addition to the skyline in Kuala Lumpur is the Petronas Twin Tower – one of the tallest building in the world. This impressive piece of architecture is located in Kuala Lumpur City (KLCC)  – a business cum leisure city with a park, shopping mall, hotel and many other modern facilities. Just on the outskirts of the city, there are forest reserves where you can do soft adventure activities like nature walk, rafting and visit local villages. Whether it is a vacation or business, Kuala Lumpur offers a diversity & appeal that is truly unforgettable. See location map.
Car / Coach

Duration
(Approx)

KLIA – Kuala Lumpur

1 hr

KLIA – Sentral (By airport train)

28 min

Sentral – Hotels in Kuala Lumpur

15 min

Subang Airport – Kuala Lumpur

45 min

Kuala Lumpur – Port Klang

1.5 hr
Our comments
Kuala Lumpur has all there is to offer for any kind of tourist. It is a great shopping city & a gourmet's delight. Most major hotels are located within walking distance to shopping & entertainment area. Nightlife is as good as you can imagine. There are a few tours in & around Kuala Lumpur and you can explore chinatown area on foot to see the old fashioned traders still in existence and the nearby Central Market. This is the hub for all the local art & craft. Hop on the monorail to see the city from another perspective. Kuala Lumpur is a good starting point for your tour plan to other parts of Malaysia by flight or by overland. See Kuala Lumpur Tours