Malacca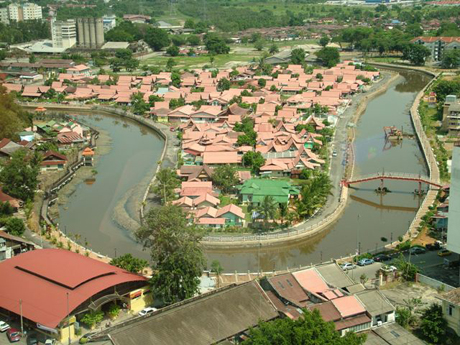 Malacca (Melaka) is known as a historically rich state and is recognised as one which epitomised the spirit of a nation, forged through the crucible of a tumultuous and intricate history.Founded in 1396, the Malacca Sultanate occupies a special position in the history of Malaysia. Its inauguration marked the beginning of the emergence of a new Malay empire. The birthplace of the Malay Sultanates and Malaysia's historic city, Malacca provided the stage on which the Portuguese, Dutch and English played out their roles in shaping history.
The Dutch, who held Malacca for over a century, left many fine buildings marking their heritage. The most imposing relic of the Dutch period is the Stadthuys, a strikingly pink town hall which is today the oldest Dutch building in the Far East. Right next to it stands the bright red ChristChurch, constructed with pink bricks imported from Holland and covered with local red lacerite. Today, these buildings together with the ruins of the Portuguese built A Famosa and St. Paul's Church are the most prominent reminders of the Europeans' presence in Malacca. See location map.
Car / Coach

Duration
(Approx)

KLIA – Malacca

75 min

Malacca – Cameron Highlands

5 hr

Malacca – Johor Bahru

2.5 hr

Malacca – Kuala Lumpur

2 hr

Malacca – Kuantan

5 hr

Malacca – Singapore

3.5 hr

Malacca – Tampin Train Station

45 min
Our comments
The peranakans or Baba Nyonya is the main feature here, notably their culture and food besides the historical ruins & building from the colonial days of the Portuguese, Dutch & English. Baba Nyonya food is a mixture of Chinese, Portuguese, Dutch, Indian, British and Malay cooking with most dishes being spicy in nature. You can join a cooking lesson to learn how to make the popular Nyonya Laksa & Chicken Curry.
As you walk along the old Malacca, you will begin to notice the beautiful crafted grills and colourful tiles which is the hallmark of a typical peranakan home. Step into the Baba Nyonya Museum and you will be in awe with this unique clan.Some of the Malacca's oldest dwellings are located along Jonker Street. This is where you can pick up a piece of history of Malacca – lots of interesting antique & artifacts are sold here. In the evening, small stalls offering local delicacies & souveniors are all setup along here.
If you are tired of walking, join a river cruise. The river was the main artery of trade for Malacca in its heyday when it was bustling with traders from all around the world. Some buildings from that era still stand majestically by the river, which is also lined by old villages, or kampungs, and modern day buildings.See Malacca Tours