Langkawi
Langkawi, officially known as the Jewel of Kedah, is known for the home of beautiful islands and beaches thanks to its archipelago of 104 islands, as well as being a duty free zone. This results in the islands being popular among travellers to Malaysia regardless of seasons. Our tour packages offered enables you to have a look at the famous local batik arts, cruise around the islands, or dive into the beautiful waters. Either way, your vacation in Malaysia would be an unforgettable one with us.
Adult: RM 4127 | Child: RM 3302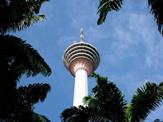 The self-drive program covers part of  major attractions in Malaysia with a wonderful journey from the historical places to the modern city  and beautiful Island.
Adult: RM 4929 | Child: RM 2744

A complete tour of the west coast. This is the best developed region and it has probably the best attractions in Malaysia. Malacca & Penang are both UNESCO listed heritage cities. Langkawi is the gem here for it`s laid back lifestyle tropical island. Then you have Kuala Lumpur & Cameron HIghlands to add to the list. All in all a great holiday tour.