Pan Pacific KLIA
This is the only hotel located at the main terminal of the Kuala Lumpur International Airport. It is convenient as it is just 10-15 mins walk away from the ariival hall. The hotel provides 24 hr buggy service. For a good rest, this is the best choice against all other hotels near the airport where you need a transport to get to. Definitely less hassle and worth your while.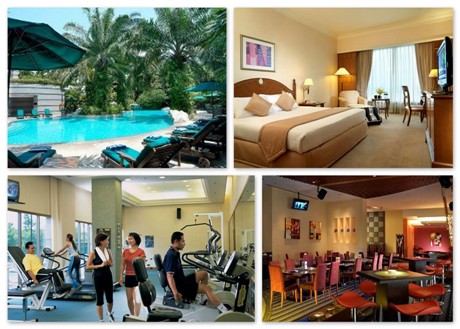 Pan Pacific Kuala Lumpur International Airport is located adjacent to the KL International Airport's Main Terminal Building. The hotel is linked to KL International Airport via a sky-bridge and is just a five-minute walk. For the guest's convenience, Pan Pacific Kuala Lumpur International Airport has introduced a complimentary 24-hour buggy shuttle service between the airport and the hotel.  Guests can also check into their room at the hotel check-in counter located at the baggage claim area (Carousel F) of the Airport's International Arrival Hall.  
Rooms & Suites
Pan Pacific Kuala Lumpur International Airport Hotel has 441 rooms and suites which are designed to exceptional standards with an intrinsic eye to detail. All rooms boast of state-of-the-art technological features that complement the spaciousness of the accommodation. Facilities for the disabled and non-smoking rooms are available.
Each room includes:·   Air conditioning with temperature control · IDD Telephone with data / fax port and Voicemail ·  Broadband Internet access· Electronic room safe · Coffee and tea making facilities · Minibar / refrigerator·  Iron and ironing board ·  Hairdryer ·  TV with satellite channels ·  Alarm clock· Writing table & table lamp  ·  Double-glazed soundproof windows ·  Electronic door lock ·  Toiletries / bathrobe / yukata / slippers · Long bath and shower 
Deluxe Room
Located on the 5th to 8th floor, the Deluxe rooms are spacious, comfortable and elegantly appointed. All rooms are sound proofed and come with ensuite bathroom, long bath, shower and amenities such as iron and ironing board, coffee making facility, minibar, roomsafe. Broadband internet access and satellite TV channels come as standard features 
Pacific Club Room
For the discerning guest who demands a higher standard of luxury and personalized service, we present the premier Pacific Club located on the highest floor in the hotel. At the very heart of the Pacific Club is the Pacific Club Lounge, the perfect place to start the day with a buffet breakfast or unwind in the evening with a tropical cocktail. 
Pacific Club benefits include:·          
Complimentary coffee, tea, juices and soft drinks at Pacific Club Lounge from 6 am to 11 pm · Complimentary breakfast for 2 persons at Pacific Club Lounge from 6 am to 11 am · Complimentary evening cocktails for 2 persons from 7 pm to 9 pm · Complimentary broadband access in the room · Complimentary usage of meeting room at Pacific Club, subject to availability ·  Complimentary local calls · Complimentary pressing or dry cleaning of 2 items daily·  Complimentary car parking (basement only) not applicable for valet parking ·   Complimentary usage of the foot massager in the room ·  Complimentary faxing (local), printing and photocopying services (up to a maximum of 10 copies per day) · Choice of local newspaper ·  Wireless internet available at Pacific Club Lounge · Late check-out until 3 pm, subject to availability · Express check-out service at Pacific Floor · Personalized wake-up call wih a choice of coffee or tea · Complimentary scheduled return shuttle service to Low Cost Carrier Terminal, subject to availabiltiy * Benefits are subject to change without prior notice  
Family Room
Exceptionally spacious with the family in mind. Sleeps 2 adults and 2 children comfortably.  Each Family Room comes with 1 king bed and 2 single beds.  All rooms come with ensuite bathroom, long bath, shower and amenities such as iron and ironing board, coffee making facility, minibar, roomsafe. Broadband internet access and satellite TV channels are standard features. 
Restaurants & Bars

Degrees 24-Hour Restaurant
Degrees° is designed to feast your senses and fire your imagination. At the core of Degrees° inviting surroundings is its open-kitchen concept. Here is where customers are feted with a skillful display of culinary excellence as chefs from the various sections prepare an array of over 150 types of Asian, International & Fusion cuisines "live" and on-the-spot to whet your appetite and satisfy your taste-buds.
Travellers Bar & Grill
Feeling bored locked-up in your room? Staff in the Traveller's Bar & Grill produce a dazzling array of drinks and food before your very eyes, in the open kitchen.  Come on down and tuck into delicious wood-fired pizzas, tasty tapas, juicy steaks and burgers or sizzling Malaysian satay. While you are at it, order a drink from the bar and enjoy the music from the "live" band or play a game of snooker. 
Palmz Lobby Lounge
Palmz décor and furnishings is contemporary, enhancing the relaxed and casual atmosphere. With light background music and subtle lighting, it is the perfect ambience for guests to relax and unwind. Is an ideal venue for family and friends to rendezvous to bid farewell before departure or reunion with love ones. A wide variety or pastries, sandwiches and hot snacks are offered throughout the day, this includes a selection of coffees, teas and smoothies. Palmz offers wireless high speed internet, TV viewing area and in-flight information.
Facilities & Services  Business Centre
Your office within a hotel, the Business Centre is equipped with a variety of business equipment and facilities, including broadband internet access, faxing, typing and reliable services provided by the staff 
Recreational Facilities
All the following facilities make Pan Pacific Kuala Lumpur International Airport the perfect escape for travel-weary guests.·  Outdoor swimming pool · Outdoor tennis court (lighted) · Massage facilites – poolside or in the room · Sauna, Jacuzzi and steam room ·  Fully equipped gymnasium ·Operation hours:·Swimming pool – 7 am to 10 pm · Tennis court – 7 am to 11 pm·  Massage – 9 am to 12 midnight · Sauna, Jacuzzi and steam room – 24 hours·  Gymnasium – 24 hours · Services· For your convenience, we offer Service One, a single department of consolidated services to expedite your requests· Hotel check-in counter at the KL International Airport (International arrival hall ONLY) · Complimentary buggy shuttle service from airport to hotel . Concierge – 24 hours · Broadband Internet connection · Currency exchange ·  Babysitting – prior arrangements required ·  Laundry and drycleaning · Medical assistance· Shoeshine · Limousine service · Travel and tour agent · 140 covered car parking lots ·  Florist · Convenience Store · Emergency assistance · Hair and beauty salon
Send Enquiry