SKU10POM 10D9N – Best of Sabah featuring Pom Pom Island
Adult: RM 6450 | Child: RM 0
his is a programme booked by a couple in May 2010 who wanted to to see the Best of Sabah and have a few days on an idyllic Island.  Pom Pom Island was picked and it became an amazing stay.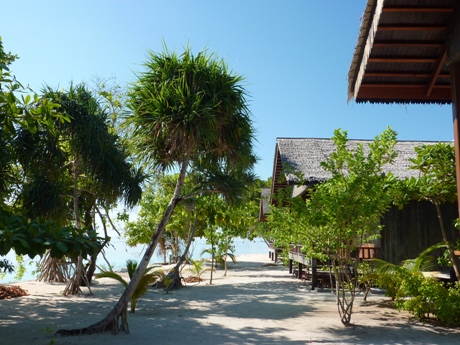 May 13 –  Arrive Sandakan

Arrival in Sandakan Airport, you will be met and transferred to hotel and rest.
Dinner at hotel (Dinner)
May 14     Sandakan – Sukau
0800hrs Pick up from hotel lobby, drive for approximately 30 minutes to Sepilok Orang Utan Rehabilitation Center. Proceed to the free roaming area feeding platform. 1000 hrs feeding of Orang Utan. At this center, observe man's closest relative "the Orang Utan" being rehabilitated to become wild in their natural habitat and experience a walk in the Tropical Lowland Dipterocarp Forest of Borneo. 1100-1115 hrs depart Sepilok and transfer to jetty in Sandakan. 1145 hrs take an hour boat cruise up to the Lower Kinabatangan River Sanctuary where you will take your lunch at Abai Jungle Restaurant. This is a wonderful journey of discovery which starts from the waters of Sulu Sea of Sandakan Town through a magnificent scenery of the Mangrove Forest. After lunch, cruise UP river to Sukau village in search of primates especially the Endemic Proboscis Monkeys, birds and other wildlife. Arrive Sukau, check in at Kinabatangan Riverside Lodge. Late afternoon, take another river cruise with electric motor to Menanggul River, a small tributary of the Kinabatangan. Return lodge for dinner and overnight at Kinabatangan Riverside Lodge.
(Breakfast / Lunch / Dinner )
May 15 –  Sukau –  Lahad Datu – Borneo Rainforest Lodge
Wake up by the calls of gibbons and hornbills. Early in the morning 0630hrs , take a river trip to the Ox Bow Lake to observe wildlife and experience the early morning river ambience of the longest river of Sabah. After breakfast transfer to Lahad Datu for unscheduled transfer to BRL Danum Valley.Depart for 2½ hours overland journey on a road to Borneo Rainforest Lodge followed byan introduction to the forest through "Nature Trail" and "Canopy Walkway"In the evening slide presentation at the Conference Room & "Night Drive" in an open-air jeep in search of nocturnal animals. (Breakfast / Lunch / Dinner)
May 16 –  In Danum Valley

Guided treks to the Kadazandusun burial site – "Coffin Cliff" then proceed with trekking to the "View Point" for a bird's eye view of the area. Descend to the "Jacuzzi Pool". Night Walk in search of nocturnal animals.
(Breakfast / Lunch / Dinner)
Due the unscheduled transfer, an introduction to the forest through "Nature Trail" and "Canopy Walkway" programme will be done on May 16 instead of May 15. However, the order of the tour will be determined by the resort.
May 17 –  Danum Valley – Lahad Datu – Semporna – Pom Pom Island

Arrival in Sandakan Airport, you will be met and transferred to hotel and rest.
Dinner at hotel (Dinner)
May 18-21 –  In Pom Pom Island

Non Diver – Free at leisure  Relax and enjoy the sun & beach
Snorkeling at the resort area (Equipment chargeable)  (Breakfast/Lunch/Dinner)
May 22 –  Depart Pom Pom Island – Semporna – Tawau

1400hrs Boat transfer to Semporna Jetty. Upon arrival at 1500hrs, transfer to airport for flight home.
(Breakfast/ Lunch)·
End of service
The client`s feedback on this trip :-
Hi there,
I just wanted to write and say that we had an amazing time and can't believe how smoothly everything went. We'll complete the questionnaire that we received, but I just wanted to say that your professionalism was above all expectations.
Regards, Nikito_Laurita/ UK
TRIPADVISOR Oct 19, 2010, 6:11 AM Nikito_Laurita
I went with my wife for 10 days to Borneo in May of this year and we were impressed by Peterson Travel. We don't like tours in the traditional sense, so were pleased when we could just choose transport and hotels. We'd have preferred to do the trip on our own, but soon found out that the terrain in Borneo makes it impossible to hire vehicles.
The other bonus of going through an agency is that they get better deals on hotels than you can negotiate directly with hotels. This was even more noticeable on the prices of the hotels on the islands off the coast of Simpadan which were crazily expensive if you tried to book direct.
With Peterson, we paid a deposit by bank transfer if I remember right, then the rest nearer the time. The trip went really smoothly, but the best thing about them was that we sent the itinerary we wanted and the agency put together the exact tour we wanted, on the days we wanted. Bespoke travel agency at normal tour prices and cheaper than you could do yourself – what more could you want!
Send Enquiry