REP1413INL – 14D13N The Golden Land Experience
Adult: RM 0 | Child: RM 0
This comprehensive fourteen day thirteen night tour of Myanmar will take you to the most astonishing destinations within the country. Start off in the busiest and most populated city of Yangon. Head to Maymyo to visit the lush National Garden. Our trip then takes us the culturally rich city of Mandalay. Next stop on the tour is Sagaing for a real taste of the Buddhists way of life. From Sagaing head to Monywa to get an understanding of the trade center between Myanmar and India. Bagan is our next destination, featuring thousands of pagodas. Lastly we will visit Inle Lake which has been untouched by modern traditions. Finish our tour back in Yangon where you will say goodbye to the Golden Land.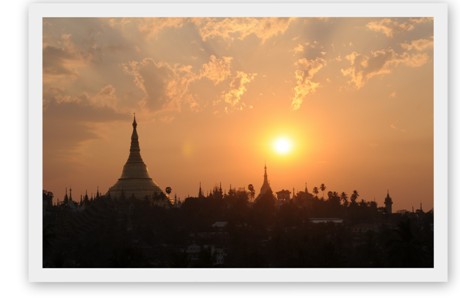 DAY 1      ARRIVE YANGON
Welcome to Myanmar!
Upon arrival at the airport and after you clear customs, you will be greeted by a representative and transferred to your hotel. Along the way you will quickly realize that Yangon is like no other city of its size in all of Southeast Asia. Yangon is the commercial capital of Myanmar and has a population of over five million. After check in at your hotel and a brief freshening up we will begin your tour of the city. As we ride to the colonial part of downtown for a walking tour you will get a sense of the city and its people. The lush green park, picturesque lakes, and the charming people give Yangon a great reputation of beauty. After a tour of downtown we will begin to see the highlights of the city. We will start off by visiting the Chaukhtatgyi Temple which houses the biggest reclining Buddha image in Southeast Asia. At first sight you will just say "wow" and it will leave a lifelong impression. Afterwards we will head to the National Museum where you can wander around and see precious artifacts as well as learn about the culture and lifestyle of the country. The giant Shwedagon Pagoda may have caught your attention at some point during the day, and we has saved the best site for last. This evening you will get the chance to experience this awe inspiring pagoda during sunset. The richness of the colors and surrounding atmosphere will leave you breathless. After a long day you will be transferred to your hotel for a good nights sleep.
Overnight at Yangon.
DAY 2      YANGON – MANDALAY – MAYMYO
Breakfast at hotel.
This morning after breakfast, transfer to the airport for the flight to Mandalay Tadaoo international airport. On the way to the Maymyo you will go through Paleik which is home to hundreds of temples and pagodas. Then take the interesting two hours drive to Pyin Oo Lwin (Maymyo) which was originally a Shan-Danu village; in 1896 it became a hill station that served as a retreat for European civil servants stationed in Mandalay. It is also considered the melting pot of Burma as it still has the largest community of Anglo-Burmese, Anglo-Indian, native Shan, Myanmar and Chinese immigrants especially from Yunnan. During your visit you can take a trip to the colorful market or go for an easy stroll in the centre of the town to see the Purcell tower which was a gift from the Queen of England. You will notice that the main street is a mix of colonial-era buildings and modern Chinese buildings, making Maymyo a great cultural treat. You can also take a unique horse drawn carriage to the National Botanical gardens. In 1915 this natural forest was transformed into a lush green botanical garden. The 436 acre garden includes many species of local and foreign flora and fauna. The beautifully manicured lawns and alluring landscape design makes this park one of the most charming in the country. The garden also includes a rainforest display as well as a 4 acre orchid garden.
Overnight in Maymyo. (Breakfast)
DAY 3      MAYMYO – MANDALAY
Breakfast at hotel.
This morning we will head back to Mandalay, the second largest city in Myanmar. With a population of over one million, this city holds great importance to the county. The city gets its name from Mandalay Hill, which is a 246m high knoll to the northeast of Mandalay Fort, which can't be missed. At the foot of the hill you will find the "Buddhists Bible" or as many know it as the world's biggest book. Kuthodaw Pagoda has over 700 marble slabs inscribed with the words of Buddha, and each slab is housed in its own white stupa. The city is filled with conservative culture and traditional art which will give you a good a representation of a Buddhist city, and nearly 60% of all the monks in Myanmar reside within the Mandalay area.In the afternoon we will visit the Golden Palace Monastery. This is the most well known wooden monastery in the country. Around sunset we will head to the top of Mandalay Hill so you can enjoy the miraculous sunset views of the city.
Overnight in Bagan. (Breakfast)
DAY 4      MANDALAY
Breakfast at hotel.
Today we will begin by making a visit to the colorful Zegyo market. Here you will get to see all of the handcrafted goods as well as the daily life of the people. After the market we will visit Mahamuni Temple which is home to a gigantic bronze Buddha image covered in thick gold leaf. This temple is one of the three holiest places in Myanmar. Each year thousands of devotees flock to this destination to show their praise. Mandalay is the home of handmade arts and crafts and today we will enjoy seeing how the local people take raw material and transform it into marvelous art. We will start at the gold leaf workshop, where 24k gold is transformed into super thin gold leaves using only precise hammer blows. This ancient technique is still used today and cannot be rivaled by the most sophisticated equipment. You will also enjoy a stroll down the marble carving street; here you will see raw marble transformed into various pieces of art. You will also get to see how the traditional puppets and Kalaga tapestries are made. If you choose we can also visit the wood carving workshops or go see how bronze medal is cast. To end the tour of arts and crafts we will visit the traditional cotton and silk weavers. The fabric that they create is so intricate that only one inch per day can be finished. This transformation is so astounding it is sure to leave you speechless. After a day of transformation we will head to the famous U Bein Bridge on Taungthaman Lake. This half mile bridge is known as the longest teak bridge in the world.
Overnight in Mandalay. (Breakfast)
DAY 5      MANDALAY – SAGAING – MONYWA 
Breakfast at hotel.
Today will begin with a three hour drive to Monywa. Along the way we will visit Sagaing, which is a neighboring town to Mandalay on the other side of the Ayeyarwaddy River. It is considered the living centre of the Buddhist faith in Myanmar. The landscape is dotted with over 600 monasteries and nunneries. Grand Lotus assures to take you to the unique Kaungmhudaw pagoda and to Zayar Theingi Nunnery with hundreds of women scholars. Before finishing our drive to Monywa we will have head up to the top Sun Oo Ponnayashin pagoda to enjoy a misty view of the city as well as the river.
Overnight in Monywa. (Breakfast)
DAY 6      MONYWA
Breakfast at hotel.
Monywa is a city located 136 km northwest of Mandalay on the eastern bank of the River Chindwin. Monywa serves as a major trade center for India and Myanmar. While here you can visit some interesting markets and try out some very good restaurants. Monywa is also the hub of Buddhist culture, and it's famous for the unique Thanboday pagoda. Its unique shape makes it very different than any other pagoda in all of Myanmar. Your day will also include a trip to Bodi Tahtaung, and if temples are not your thing than we recommend an excursion to Hpo Win Daung Caves for its wall paintings. You also may want to see Shwe Ba Hill which features unique pavilions cut from the surrounding sandstone and filled with plain Buddha images.
Overnight in Monywa. (Breakfast)
DAY 7      MONYWA – BAGAN
Breakfast at hotel.
This morning say goodbye to Monywa and embark on your journey to Bagan via Pakkuku. Along the way we will visit a few sites such as Thihoshin Temple, the local market, and cheroot making workshop. On arrival we will transfer to the jetty to board our private boat to Bagan. Enjoy the rest of the day and night cruising along the Ayeyarwaddy River.
Overnight in Bagan. (Breakfast)
DAY 8      BAGAN
Breakfast at hotel.
Today we will begin our tour of Bagan which has the largest area of temples, pagodas, stupas, and ruins in the entire world. Bagan is one of the most culturally historic places in Myanmar as well as a main hub for Buddhist studies. Its deep rooted culture and sites makes it one of the holiest cities in all of Asia and it can be compared with that of the Jerusalem.
You will quickly realize why Bagan used to be called "the city of four million pagodas." After checking in at your hotel we will begin the tour of the city. There are too many temples to visit in one trip, but Grand Lotus assures insider access to the most astounding temples which are Shwezigon pagoda, Ananda, Gubyaukgyi Htilominlo and Sulamani temple. Your provided guide will be sure to give you all the different aspects, architectural styles, and history of each temple visited, so visiting multiple temples in one day will never get old. This evening you can enjoy a cruise on the mighty Ayeyarwaddy River. This will provide you with excellent views of the amazing archaeological sites as well as the local people going about their daily lives before the sun goes down.
Overnight in Bagan. (Breakfast)
DAY 9      BAGAN
Breakfast at hotel.
Today you will have your choice of travel arrangements. You can take a pony cart ride that will which will guide you up and down the small dirt roads where you can get a different viewpoint of the ancient sites, or for those feeling a little more active we can arrange for you to hire bikes to get a real feel of the desert landscape. Your final choice which most prefer is a private air-con equipped car with driver. No matter which way you choose to see this city, we assure you won't be let down. For those wishing to get a birds eye view of the temples, be sure to book a hot air balloon ride. We promise you won't be disappointed.
This evening we will take you to the top of one of the highest temples where you can observe the magical sunset. You're sure to get goose bumps from the astonishing view of the thousands of temples that dot landscape, and we assure that you can't get this experience anywhere else in the world. Let your imagination take you back in time as you relax and watch the temples vanish before your eyes.
Overnight in Bagan. (Breakfast)
DAY 10      BAGAN – INLE 
Breakfast at hotel.
Today will start with an early morning transfer to the airport for you flight to Heho which is the gateway to the Southern Shan State. Upon arrival you will notice that the weather here is much nicer than that of the southern part of Myanmar, and that is because the elevation of this town is nearly 3000 feet above sea level. To get to our destination of Inle Lake we will embark on a one hour drive that will take us through the lush green countryside of the Shan Hills. This journey will not bore you because on the way we will stop at the family owned Shan paper umbrella workshop and you can witness first hand the amazing hand craft skill that goes into making the umbrellas. We will also stop at the Shwe Yan Pyay Monastery which is a fascinating building made of teak wood.
Upon arrival at Inle Lake you will be taken by boat where you can check into your hotel. After check in you will be chauffeured via long tail boat around this spectacular 22k fresh water lake that is fed by hundreds of mountain streams. You will get to see the amazing beauty of this lake that is filled with a way of life like nowhere else. From floating gardens and villages to lakeside pagodas, Inle Lake is sure to be the destination in Myanmar that you treasure the most.
Overnight in Inle. (Breakfast)
DAY 11      INLE 
Breakfast at hotel.

After breakfast you will start your full day of sightseeing around the lake. We will begin at the local market where you can witness the local hill tribe people coming down the mountain to sell their handmade goods. We will then continue to explore the lake and you will get to witness the wondrous balancing act of the leg-rowing Inthas. It is something that you must see to be able to describe. You will also get up close to the local fishermen who use traditional and unique methods to catch fish. Inle Lake is the home of the holiest Phaungdawoo Pagoda, and you are sure to see some of the most extraordinary images of Buddah. Finish up the day on the lake with a pleasant sunset surrounded by mountains.
Overnight in Inle. (Breakfast)
DAY 12      INLE 
Breakfast at hotel.
This morning after having breakfast leisure, take the scenic boat ride through the canals to Indein, a complex of ruined temples from 17th century. Spend more time visiting floating villages and gardens to experience the daily life of Intha people.
Overnight in Inle. (Breakfast)
DAY 13      INLE – YANGON 
Breakfast at hotel.
Say goodbye to the marvelous Inle Lake as you head back to the airport for your flight to Yangon. After you check into your hotel, be sure to visit the famous Bogyoke market where you can shop for treasures from all around Myanmar. If that does not fancy you than head to Chinatown and walk around to get a different feel of the city. To end the day head down to the river where you can take a stroll and see the busy waterfront.
Overnight in Yangon. (Breakfast)
DAY 14      DEPART YANGON
Breakfast at hotel.
Today you'll be transferred for your departure flight from Yangon International Airport. Be sure to say goodbye to Myanmar, but not forever because were sure you will be back for more. (Breakfast)
Remarks
Please contact us for a quote.
Send Enquiry