KCH10BKI – 10D9N Borneo Indepth
Adult: RM 6038 | Child: RM 4534
A complete tour of Borneo to see all the major attractions & highlights. This is an extension programme from Borneo Discovery with an added feature – Turtle Island. Due to the popularity of the Turtle Island, early booking is necessary. Peak Period is July – Sep. Remember we are flexible, we can always adjust the programme to get the availability or to your requirement.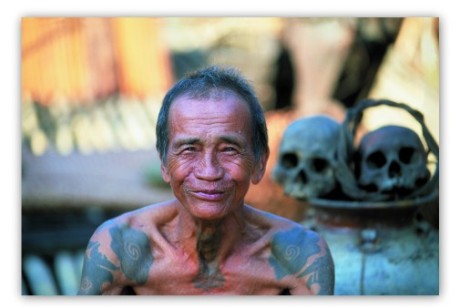 DAY 1    ARRIVE KUCHING  
Arrive Kuching Airport via 2564 (1005/1150). Meet & transfer to Hotel. Afternoon City Tour – the start of the Borneo Adventure covering the Sarawak Museum – (closed on Fridays), Market Place, State Mosque and Historical Chinese Temple. Join a pontoon river cruise for a scenic view of the Astana – Residence of the former White Rajah and the surrounding areaEvening at leisure. Overnight in Kuching
DAY 2    KUCHING – LEMANAK RIVER – BATANG AI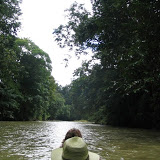 A 225-km car/coach journey takes you through lush green countryside dotted with padi fields, pepper gardens and rubber plantations, and flanked by rugged jungle-clad mountains. Along the way, stop off at the Serian farmer's market, visit a pepper garden and view carnivorous pitcher plants. Stop for lunch at a roadside bazaar deep in Iban country.
Arrive at Lemanak jetty mid-afternoon for a longboat ride up the Lemanak River, passing through typical Borneo countryside with an ancient longhouse tucked behind almost every bend in the river. Arrive at either Serubah or Nanga Kesit Longhouse and visit the "entire village under one roof." Tour the longhouse and enjoy a demonstration of blowpipe shooting.   Return down river for transfer to Batang Ai jetty. After a 20 minutes boat ride across the 24sq km Batang Ai Hydro Lake, arrive at the Aiman Batang Ai Resort & Retreat.
(Breakfast/Lunch/Dinner)
DAY 3    BATANG AI – KUCHING
Breakfast at the resort. Enjoy the view of the lake  – it is sometimes shrouded in mist which makes it quite breathtaking. Depart for Kuching via the same route.  Lunch is served en route.Drop off at hotel in Kuching for overnight.
(Breakfast/Lunch)
DAY 4    KUCHING – MULU
Take the early morning flight to Miri  via MH 2802 (0700/0800) and  connect to Mulu via MH 3630 (0920/0950).  On arrival, meet and  transfer to Mulu  Marriott Resort & Spa.In the afternoon, depart for 3-km plankwalk to visit Deer & Lang caves and wait for bat exit at the observatory before returning late evening to resort for overnight.
(Breakfast/Dinner)
DAY 5    IN MULU 
After breakfast, depart by longboat journey for short stopover at penan settlement (semi nomadic tribe of Sarawak) before continuing on to Wind & Clearwater caves. Return to resort at mid afternoon.Rest of the day – relax in this unique resort by the pool or indulge yourself in the Spa or Massage treatment.
(Breakfast/Dinner)
DAY 6    MULU – KOTA KINABALU
Transfer to airport for flight to Kota Kinabalu via MH 3254 (1440/1625) . On arrival, meet  & transfer to hotel in Kota Kinabalu.(Breakfast)
DAY 7    IN  KOTA KINABALU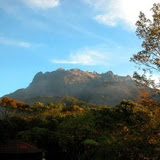 Full Day Kinabalu Park & Poring HotspringNominated by UNESCO as a World Heritage, Kinabalu Park is one of the most biologically diverse areas in the world.  Here, Mt. Kinabalu, the highest mountain in Malaysia towers majestically at 4095  m (13431 feet).
From the montane oak-chestnut forest proceed to the lowland dipterocarp forest at Poring.  Cross a Canopy walkway to view epiphytes growing on the treetops. If time permits, you will be able to take a dip at the Hot Springs where the sulfuric content of the natural springs are said to have therapeutic value.
(Breakfast/Lunch)
DAY 8    KOTA KINABALU – SANDAKAN – SELINGAN ISLAND
Early morning transfer to Sandakan Airport for flight MH 2042 (0700/0740).  On arrival ,  meet & transfer to jetty for a 45 minute boat ride by speedboat to Selingan Island. On arrival, register at the Turtle Island Park's Headquarters and check into the chalets. After lunch at the Cafeteria, you are free at leisure to go swimming or snorkeling.
Shortly after dinner, wait for the ranger's call to observe turtles laying their eggs. The eggs will then be transferred to the Hatchery and if there are any young turtle hatchlings, you will have the opportunity to observe the release of the turtles into the sea.  Overnight at Chalet Photography are strictly prohibited between 6.00 pm – 6.00 am.
(Breakfast/Lunch/Dinner)
DAY 9    SELINGAN – SANDAKAN – SUKAU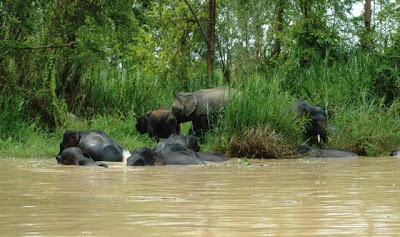 Return to Sandakan by boat and proceed to the world's largest – Sepilok Orang Utan Rehabilitation Centre.  The orphaned orang utans from logging sites, plantations and illegal hunting are rehabilitated before being released into the wild. See the primates being fed by the park wardens plus a video show. After lunch, embark on a 2-hour boat journey to Sukau Lodge along Sabah's longest river, Kinabatangan. The journey takes you through the mangrove, wetland and rainforest habitats with a good chance of wildlife sightings.
In the late afternoon, take a two-hour river cruise to see the Proboscis monkeys as they settle down on treetops along the tributary of Kinabatangan River. Evening dinner & slide show conducted by in-house naturalist guide. Overnight at Sukau Lodge.
(Breakfast/Lunch/Dinner)
Note : Accommodation at Sukau Lodge is simple yet comfortable with modern amenities in room with electric fan & solar heated water.
DAY 10  SUKAU – SANDAKAN – KOTA KINABALU 
After breakfast, return to Sandakan by boat journey and transfer to airport for flight MH 2047 (1400/1445) – daily flight to Kota Kinabalu.
Note : The Sandakan War Memorial – The Memorial Park can be included to the programme based on later flight w – surcharge applies.
(Breakfast/Lunch)
Recommended Personal Gear
Insect Repellent, Raincoat, Good Walking Shoes, Sun Screen (sweat proof), Sun Hat, Binocular, Torchlight, Swim Wear, Tevas (sandals), Personal Toiletries and Extra Light Cotton Clothing.
Search related tours – Borneo Highlights & Borneo Discovery.
Mr Gerald Sherry & wife has embarked on this tour programme in Sep 2010 – please see their feedback. If you want to contact `Mr Ho' –hokahwah@peterson-travel.com, he is happy to answer all your queries on this tour.
Send Enquiry