MUL3 – 4D3N Mulu Caves/Pinnacles
Adult: RM 1670 | Child: RM 1336
The pinnacles at Mulu is a nature`s wonder. The amazingy razor sharp rock formation can only be seen from the plane and from Mount Api . You need a lot of physical strength to trek & climb in this programme. This adventurous programme is a lifetime experience.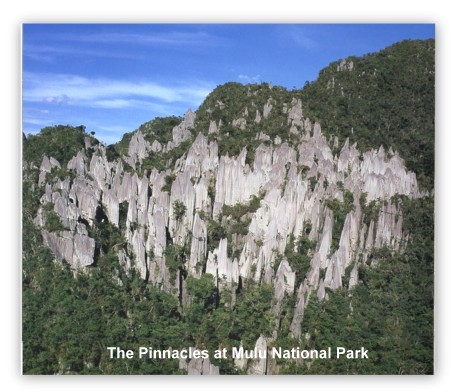 Pinnacles Trek 
The ascent of the Pinnacles is extremely tough, however, if you have prepared in advance you should be able to reach the top. You can stay at camp as an alternative to taking this trek. An early start is important, so that we are trekking at the cooler time of the day and it is also the best time to experience the wildlife. The climb is very challenging and taxing and will take about 4-5 hours. 
We are rewarded with fantastic views of the stone pinnacles from the viewpoint and the neighbouring peak of the Gunung Mulu. Following packed lunch, we descend to Camp 5 to rest our weary legs. Note:Wear shoes comfortable for mountain climbingYou must be fairly fit for this trek Children are not recommended for this trekThis trek can be done in extension to your Mulu Caves tour                                            
Day 1 – Meet on arrival at Mulu airport and transfer to your choice of accommodation. In the afternoon we will register at Mulu Park HQ. Take the 3 km plankwalk to explore Lang's and Deer Caves. We will watch the bats flight if weather permits.Return to the Park HQ and transfer to Royal Mulu Resort.

Day 2 – We will take a boat in the morning traveling upstream on the MelinauRiver to explore Wind Cave. Later after lunch at Clearwater Hut, we will travel by boat to Long Litut. We will trek through lowland forest for 8.8 km to Camp 5. Dinner and overnight at Camp 5 . (B/L/D)
Day 3 – After breakfast, we will ascend Mt. Api to an elevation of 1200m to view the Pinnacles. Packed lunch at the viewpoint before we descend to camp 5 for dinner and overnight B/L/D)                  
Day 4  – After breakfast, we will trek back to Long Litut and take the boat to Clearwater Cave. Explore the cave and lunch at Clearwater Hut before our boat transfer to the airport. (B/L)           
Tour includes of all land and river transfers in Mulu, guide,meals as mentioned in the program, park entry fees and Permit and 1 night accommodation at Royal Mulu Resort & 2 night's accommodation at Camp 5.
Send Enquiry