MYBKI11SIPADAN – HONEYMOON ADVENTURE IN SABAH
Adult: RM 10468 | Child: RM 0
We received this request from this couple who wanted to have the most adventurous honemoon possible in Sabah. After a few emails exchange, they settled for the Mountain Climbing (Via Ferrata), trekking in Danum Valley and finished the programme with a scuba diving experience in Sipadan. They had a fantasic time here. This is absolutle fitting for a couple looking for a honeymoon with a difference in Malaysia.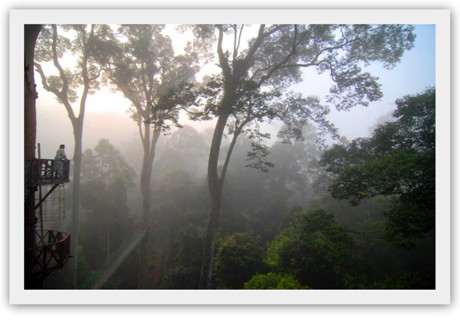 DAY 1 (31 Aug)                    ARRIVE KOTA KINABALU – TUARAN
Arrive Kuala Lumpur International airport (KLIA) via MH 140 ETA 5.40 AM and connect to Kota Kinabalu via MH 2604 ETD 7.30 AM. Upon arrival Kota Kinabalu Airport at 10.05 AM, you will be met and transfer to Shangri-La's Rasa Ria Resort.  Check in & unwind.
DAY 2-3 (01- 02 SEP)          KOTA KINABALU (TUARAN)
Free to relax & enjoy your stay at this wonderful resort. (Breakfast)
DAY 4 (03 sep)                    ASCEND  Mt. KINABALU
6.30 AM – Transfer to Kinabalu Park HQ for Mt Climb registration. Trek to Laban Rata at 11000 feet above sea level. Via Ferrata orientation in the afternoon. Overnight at Pendant Hut. (Breakfast/Lunch/Dinner)Note: Box lunch provided
DAY 5 (04 SEP)                    SUMMIT AND DESCEND

Scale to the summit. Proceed with Walk the Torq, an initiation for those who want to build their confidence in via ferrata climbing. Descent to Park headquarters and return to Kota Kinabalu. Overnight at Le Meridien Kota Kinabalu. (Breakfast)
DAY 6 (05 SEP)                    KOTA KINABALU – LAHAD DATU – DANUM VALLEY
5.15 AM – Transfer to airport for flight MH 3010 ETD 7.00 AM to Lahad Datu. Arrive Lahad Datu Airport at 7.55 AM. Meet & transfer to Borneo Rainforest Lodge office for registration and short briefing. Scheduled Transfer at 9:30 a.m., an overland journey on a gravel road to Borneo Rainforest Lodge for 2½ hours. Upon arrived at Borneo Rainforest Lodge, our exotic Welcome Drink will be served while the Front Office Personnel will brief you on the facilities available at the Lodge. In the afternoon, an introduction to the forest through Nature Trail and proceed to the Canopy Walkway. In the evening, if weather permits, experience a Night Drive in an open-air truck in search of nocturnal animals. (Breakfast/Lunch/Dinner)
DAY 7 (06 SEP)                    DANUM VALLEY
Guided jungle activities – trek to the Kadazandusun burial site – Coffin Cliff then proceed with trekking to the View Point for a bird's eye view of the Danum Valley and Borneo lowland rainforest area. Descend to the Jacuzzi Pool for a refreshing dip. Optional : Water tubing for an hour in the Danum River or guest own leisure. In the evening, if weather permits, enjoy a Night Walk around the lodge in search of nocturnal animals. (Breakfast/Lunch/Dinner)
DAY 8 (07 SEP)                    IN DANUM VALLEY
Guided trekking to the Fairy Falls and Serpent Falls. Optional : Trekking along the Segama River or at guest ownleisure. Do visit our Gift Shop(Breakfast/Lunch/Dinner)
DAY 9 (08 SEP)                    LAHAD DATU-SEMPORNA – SIPADAN WATER VILLAGE
10.00 AM – Check out early transfer by overland journey to Lahad Datu. Continue to Semporna Jetty for the 4.00 PM boat. Board the boat to Sipadan Water Village.  Check in & followed by briefing . Scuba Diving activity depends on the time you arrive . Alternatively, snorkel around the Sipadan Water Village House Reef.(Breakfast/Packed Lunch/Dinner)
DAY 10 (09 SEP)                  IN SIPADAN WATER VILLAGE

Full Day Diving (3 boat dive) & Snorkelling. Free at leisure for Non Diver. (Breakfast/Lunch/Dinner)
NOTE: Entering Sipadan Island, require permit and may not be approved on certain days if the quota exceed. Approval is issued by Sabah Park early one day before entering therefore would not be able to tell in advance. Guest can dive in Sipadan will be charged RM 40.00 per person per day than can be paid at the resort. Sipadan at this present moment only allowed 120 persons per day. We hold no responsibility for not being able to dive everyday in Sipadan due to conservation done by our Government. We can only try our best to arrange every of our guests to dive at Sipadan.Liability: All divers will be required to show proof of diver's training from an internationally-recognised training agency, sign a Liability Release (waiver) and Express Assumption of Risk form and abide by all diving and safety rules.
DAY 11 (10 SEP)                  depart Sipadan.
Check out & transfer by take the 2.00 pm boat to Semporna followed by a 45 minutes transfer to Tawau Airport for flight MH 2665 ETD 5.50 PM  to Kuala Lumpur International airport (KLIA) to connect MH 123 ETD 10.10 PM to Australia. (Breakfast/Lunch)
End of tour
Recommended Personal Gear Insect Repellent, Raincoat, Good Walking Shoes, Sun Screen (sweat proof), Sun Hat, Binocular, Torchlight, Swim Wear, Tevas (sandals), Personal Toiletries and Extra Light Cotton Clothing.
techniques. In both cases, the intention is to offset production of greenhouse gases from coal fired by improvements in rainforest management so that more trees
Posted 21 Oct 2010 on Tripadvisor
We used Peterson Travel to book our Honeymoon this year (August 2010) and were very impressed. They were recommended by a colleague and I must say everything went perfectly.
There were a number of stages / elements to our trip (hiking, Rainforest Lodge, Scuba etc) and every connection was sorted and each venue made an extra effort to make the trip special.
Highly recommended.
James Freeman
Send Enquiry