SDK5LDU – 5D4N Sukau Village & Danum Valley
Adult: RM 5076 | Child: RM 4061
A special tour of the Kinabatangan Basin and the Danum Valley. Sukau offers a great opportunity for spotting wildlife on river cruise. In contrast, you will trek & explore in the dipterocarp forests in Danum to lookout for animals. This is a great combination with two of the top activities in Sabah.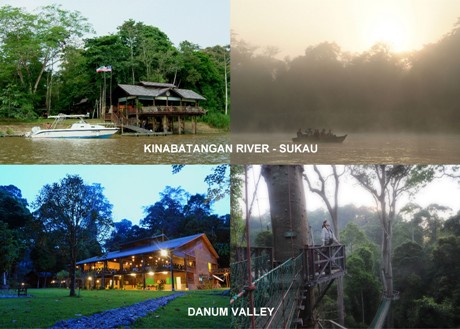 Highlights of Tour
Visit the Sepilok Orang Utan Sanctuary & Gomantong Caves
Sukau Village – river cruise to see Proboscis monkeys and other wildlife.
Stay 2 nights at Sukau
Danum Valley Conservation Area, the largest remaining area of undisturbed lowland dipterocarp forests in Sabah, Malaysia.
Stay 2 nights at Borneo Rainforest Lodge.
Day 1      Arrive Sandakan – Sepilok – Sukau
Arrive Sandakan airport MH2042 (0730/0810), meet & transfer to the world's largest – Sepilok Orang Utan Rehabilitation Centre.  The orphaned orang utans from logging sites, plantations and illegal hunting are rehabilitated before being released into the wild. See the primates being fed by the park wardens plus a video show.  After lunch, embark on a 2-hour boat journey to Sukau Rainforest Lodge along Sabah's longest river, Kinabatangan. The journey takes you through the mangrove, wetland and rainforest habitats with a good chance of wildlife sightings. In the late afternoon, take a two-hour river cruise to see the Proboscis monkeys as they settle down on treetops along the tributary of Kinabatangan River. Evening dinner & slide show conducted by in-house naturalist guide. Overnight at Sukau Lodge.
(Lunch/Dinner)
Day 2      In Sukau
Wake up to the calls of gibbons and hornbills. Experience the wilderness of Borneo – a river cruise before daybreak. In the misty morning, listen to the echoes of the jungle and wildlife as you cruise along the river. Proceed to the Kelenanap Ox-bow lake for a short jungle walk (if weather permits). You have the option to participate in our conservation project by planting trees at our 64 acres adopted land. In the afternoon, we proceed for another river cruise for more wildlife. After dinner an optional night safari cruise spotting nocturnal animals, crocodiles and birds. Overnight at Sukau Lodge.(Breakfast/Lunch/Dinner)
Day 3      Sukau – Lahad Datu – Danum Valley
After breakfast, transfer by 2hrs overland to Lahad Datu and follow by another 2.5hrs overland journey on a gravel road to Borneo Rainforest Lodge.  Check into Borneo Rainforest Lodge. In the afternoon, an introduction to the forest through Nature Trail and proceed to the Canopy Walkway.  In the evening, if weather permits, experience a Night Drive in an open-air truck in search of nocturnal animals
(Breakfast/Lunch/Dinner)
Day 4      In Danum Valley
Guided jungle activities – trek to the Kadazandusun burial site – Coffin Cliff then proceed with trekking to the View Point for a bird's eye view of the Danum Valley and the Borneo lowland rainforest.  Descend to the Jacuzzi Pool for a refreshing dip.  Optional: Water tubing for an hour in the Danum River or Trekking along the Segama River.  In the evening, if weather permits, enjoy a Night Walk around the lodge in search of nocturnal animals.
(Breakfast/Lunch/Dinner)
Day 5      Depart Lahad Datu
In the morning, you will go for jungle trekking in search of mammals and birds. Return to the Centre for lunch before departing for Lahad Datu for your onward flight
(Breakfast/Lunch)
Recommended flight details
Kota Kinabalu / Sandakan via MH2042 @ 0730 / 0810 Laha Datu / Kota Kinabalu via MH 3023 1725/1820)
Personal Gear to bring
Insect Repellent, Raincoat, Good Walking Shoes, Sun Screen (sweat proof), Sun Hat, Binocular, Torch Light, Swim Wear, Tevas (sandals), Personal Toiletries and Extra Light Cotton Clothing.
Remarks:-
July to September is a busy period here. There is a surcharge for this period. So early booking is essential.

Strict cancellation charges apply for this tour package

You can continue from here by travelling overland for a few hours to reach Semporna Jety – this is the getway to all the brilliant scuba diving resorts/sites around Sipadan/Mabul/Kapalai/Mataking & Pom Pom Island.
Send Enquiry